Summer Kitchen
An exclusive culinary collaboration
It's here! We're delighted to announce the arrival of our inspired new collection, created in partnership with some of the finest chefs from Wiltshire and the South West of England. The results of an initiative to support the restaurant industry at a time when it has been terribly hard hit, we bring you 11 incredibly delicious dishes, from 8 talented chefs, ranging from rising stars to Michelin-recognised trailblazers.

Discover 8 magnificent main meals, fit for a summer's feast, as well as 3 divine desserts to treat your taste buds. Ordering them is just as easy as usual - and you can simply pop them in the microwave from frozen.

These new dishes simply scream summer. A wonderful addition to our seasonal menu, and perfect for adding a little more delight to dinnertime. We can't wait for you to try them...
Discover our Summer Kitchen menu here
Let us introduce you to the talented chefs behind the dishes...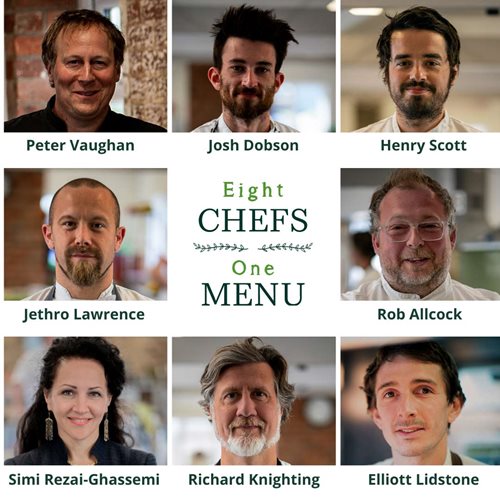 Peter Vaughan
Chef's Signature Dish
7518 Slow Cooked Beef with Onions & Dorset Ale
3119 Chocolate & Cherry Brownie with Vanilla Cream Sauce
Josh Dobson
Chef's Signature Dish
7516 Cod with Tomato, Bean & Bacon Stew
Henry Scott
Chef's Signature Dish
4231 Honey Mustard Chicken & Summer Vegetables
Jethro Lawrence
Chef's Signature Dish
4227 Gammon in Somerset Cider Sauce
3120 Gooseberry Bakewell Tart & Custard
Rob Allcock
Chef's Signature Dish
4228 Smoked Haddock & West Country Cheddar Omelette
Simi Rezai-Ghassemi
Chef's Signature Dish
4229 Chickpea & Apricot Stew
3121 Date Pudding with Coconut & Date Sauce
Richard Knighting
Chef's Signature Dish
7517 Slow Cooked Lamb with Minted Peas & Beans
Elliott Lidstone
Chef's Signature Dish
4230 Creamy Chicken, Pearl Barley & Cauliflower Risotto