It is no secret that we pride ourselves on our delicious, pre-cooked dinners created by our award-winning chefs and designed to give you maximum taste, convenience, and nutrition.
But let's not forget about another essential part of our food delivery service. Our friendly, local drivers are the backbone of our operation – without them, our tasty dishes wouldn't be able to make their way from our kitchen to your front door.
A friendly local face
We like to source our drivers from the areas that we deliver to, meaning the driver who comes to your door is someone you'll come to recognise - and more importantly - be able to trust and rely upon. More than just the person that delivers our meals to your doorstep, they love to stop and have a natter as well – they know their areas extremely well, meaning they can deliver a truly personal service.
You can choose your preferred delivery date when placing your order. Have a look at our Delivery page for more information.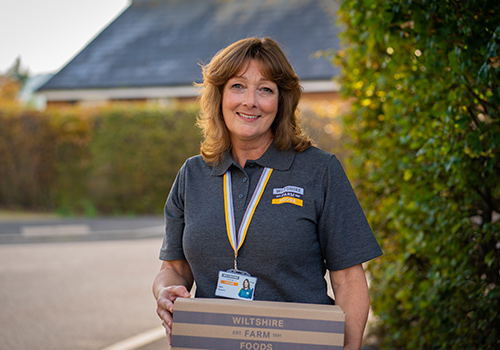 More than just a doorstep drop-off
Our delivery drivers aren't just there to drop the food at your doorstep either, they love to go above and beyond to deliver a service that you'll grow to love. If you require assistance getting your order into your freezer, they'll be more than happy to help – once they're able to again, of course!
To ensure we're taking every precaution to keep our customers safe, all our drivers have been trained in no-contact delivery as standard.
Your driver will knock on your door and leave your meals on the doorstep – then wait at a safe distance until you have collected them. If collecting your meals by yourself isn't possible, your driver is still more than happy to bring them inside and pop them in the freezer – we only ask that you remain a safe 2 metre distance as per Government advice.
Rest assured; your safety is our number one priority. These are temporary measures while we navigate these difficult times together. Our drivers can't wait until things are back to normal, so that they can pop in for a proper catch-up!
You can see our current Coronavirus guidance by clicking here.
They love what they do
Wiltshire Farm Foods drivers love what they do – delivering tasty meals to your door with a smile on their face and a spring in their step. We believe good customer service begins with loving the job you do, and that means our drivers always give it their all to make sure the service they bring to your door is always friendly, trustworthy, and reliable.
If you like the sound of a personal, friendly, local service, request a brochure today and browse our menu of over 300 tasty dishes.